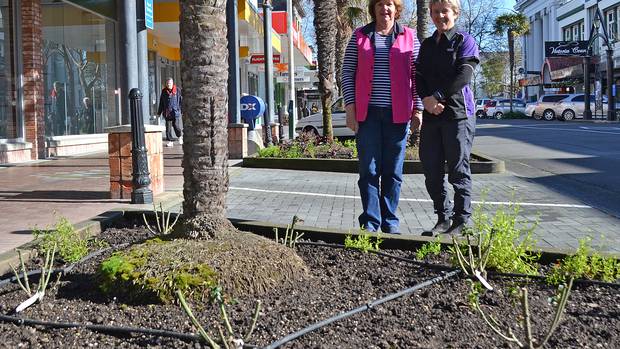 "I thought some of the roses are looking a bit worse for wear and they might like some new, fresh ones."
Cath and Bob donated three rose varieties to Mainstreet — My Mum, a floribunda rose in coral, apricot and pink; A Chance of Peace, a hybrid soft yellow tea rose and Powderpuff, a shrublet with lots of small, soft pink flowers.
All the roses are originals bred at the nurseries and some are exclusive to Matthews.
"I think Whanganui's Mainstreet is one of the nicest streets in New Zealand," says Cath, "We're happy to support it and keep it looking nice. If it's easy for Julie to have roses there, it's easy for us to replenish them now and again to keep it looking smart."
"We get good feedback," says Julie. "People stop and look when the roses are flowering and comment on how wonderful they look. We keep everything organic and only use organic sprays."
"Roses look lovely, they flower for a long time, easy to grow, they're the queen of flowers," says Cath.